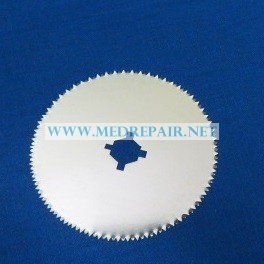 American Orthopedic & Stryker Universal Mount Cast Saw Blades
Stainless Steel
Order # CAST037
Same as the TiN except not quite as long lasting because without the TiN (Titanium) coating. Lasts approx 6 weeks if used on synthetic material in a busy fracture clinic. (This is usually the best alternative to offer against the cheaper PTFE blades). Base material hardened stainless steel.
General notes:
Longevity dependant on cast application, thickness, dryness, cutting technique & condition of blade.
Depending on number of casts per day – typical daily usage in a fracture clinic would be 20 casts at 2 minutes per cast.
Always use according to operating instructions.
Remove blade for cleaning and wash with soap, water & a brush.
For All Product & Pricing Inquires, Please Call or Email Form On "Contact Us" Page or Visit Our Ebay or DotMed Stores
Product Description
For All Product & Pricing Inquires, Please Call or Email Form On "Contact Us" Page